Inside the Marquee
Judging underway!
Children's Entries
Drinks Classes
Fruit and Veg Classes
Flowers Classes
OUTSIDE
Radstock Museum's Stall
Miscellaneous Stalls with Wellow Valley in Background
Friends meeting up for a chat
and again
Bella introducing her Shetland Pony Display Team
Shetlands racing!
The Parlour Shop BBQ underway
The Fox and Badger Beer Tent. Thanks to Jo and Charles!
The ever popular ferret racing!
Ferret racing betting. Thanks to Andy Elvin and his mate.
One happy young man with his favourite donkey
Midsomer Norton and Radstock Silver Band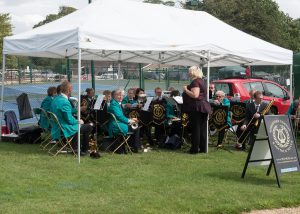 Some of our lovely "teas" ladies
Miniature steam engine
Whisky Galore! Thanks to Alan Ross, Janet and Alex Martin.
Mary-Jane Evans with her stunning ceramics
A Load of Old Billhooks
Combe Hay Vineyard Stall
Our prize winners – presented by Cllr Neil Butters
Hugh Prentice
Alice Harper and Rob Greig
Alice Harper and Alex Martin
Heather Voutt
Alex Martin
Katie Millar
Alex Martin (!)
Alex Martin (!!!)
Julia Wylde
Mae Jackson
Our Young Gardener of the Year, Ashling Hammerton.
Well done, Ashling!
Alex Martin with the ultimate accolade – the Banksian Medal.
Congratulations, Alex!
Sophie (on behalf of Harriet Axe)
Last, but by no means least, Wellow Boules won too!
Many thanks to our official photographer, Jane Rees, pictured here on the right.
1444total visits,1visits today